a
a
Article rank
16 May 2012
Business Day
Valliea@bdfm.co.za
Up in smoke: more in SA lighting up illegally
Government, business lose billions to growing trade in illicit cigarettes, writes
ATIGHTER control of borders and harsher penalties were needed to curb the "alarming" rise in the trade of contraband cigarettes in SA.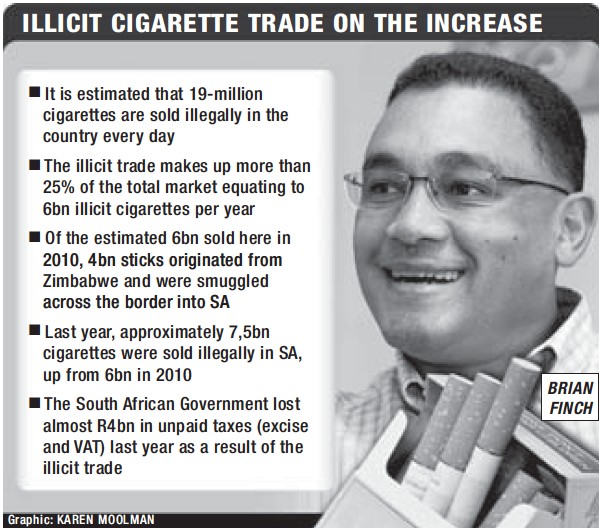 This is according to British American Tobacco (BAT) SA MD Brian Finch.
He said the incidence of this trade has almost doubled over the past three years.
Last year about 77,5-billion cigarettes were sold illegally in SA, up from 6-billion in 2010.
As 25% of the total cigarette market, this by far exceeds the global average of between 8% and 12%, said BAT.
About 80% of the illegal cigarettes comes from Zimbabwe.
The government, BAT said, lost about R4bn in unpaid taxes (excise and VAT) last year and more than R3bn in 2010 as a result of the illegal trade in cigarettes, while legitimate retailers lose more than R500m annually.
Mr Finch attributed the rise in this illegal trade to the economic downturn that has adversely affected consumers' disposable income, forcing them to downgrade to cheaper products.
"While we acknowledge and commend the effort that government is putting into combating illicit trade in cigarettes, a lot more still needs to be done," Mr Finch said.
"Law enforcers should ensure that the period between investigations and the actual prosecutions of illicit traders is shorter than it currently is, and that the penalties are also harsher than they currently are."
South African Revenue Service (SARS) spokesman Adrian Lackay, who disputes that the situation is as described by BAT, said both BAT and the Tobacco Institute of Southern Africa (Tisa) had regular interactions with government and could raise the need for policy changes at any time.
"It is factually incorrect to say the trade in illicit cigarettes has increased. In SARS compliance programme published last month we outline this illicit trade as a key focus point for us," he said. Mr Lackay said SARS confiscated illicit goods often and had a much tighter control of borders since 1994.
The compliance programme is an overview of SARS' plans for the next five years to grow compliance with tax and customs legislation. It focuses on seven key areas that include the undervaluation of imports in the clothing and textile industries, and trade in illicit cigarettes. During the past financial year, SARS has made more than 20 000 seizures of goods to the value of about R1bn including about R100m worth of contraband cigarettes, the document says.
SARS said its interventions "will continue to focus on clamping down on cigarettes smuggled via warehouses as well as the diversion of cigarettes destined for export back into the local market.
"We also plan to modernise our warehousing management systems", it said.
Tisa's Francois van der Merwe said government would need to have a holistic approach to solving the illicit trade problem. "The health and agriculture departments also need to get involved. There isn't one silver bullet to tackle the growth of this problem," he said.
"Despite the health department's best efforts to curb smoking, it has increased and even though the legal cigarette trade has been declining, the illegal incidence had risen," he said.
Mr Van der Merwe said SA'S higher tax structure when compared to neighbouring countries also contributed to illicit trade. "Duties on tobacco products have risen 1 350% since 1994, whereas the illicit trade was non-existent prior to 1994, it is now almost 26% of the market."
Printed and distributed by NewpaperDirect | www.newspaperdirect.com, US/Can: 1.877.980.4040, Intern: 800.6364.6364 | Copyright and protected by applicable law.